Analysts, patent filings and our general gut intuition all point to one thing: Apple AirPods 2 are coming sometime in 2019.
How can we be so sure? The AirPods 2 haven't yet been officially announced by Cook and Co, but thanks to some trademark and Bluetooth SIG filings, we know they're close – and they might be radically different than the AirPods you know and love. 
The trademark filings say that the second generation AirPods will be a health and fitness device, in addition to being a pair of true wireless earbuds. That designation is usually reserved for fitness trackers, so it's interesting that Apple is pursuing it for its earbuds and could integrate nicely with what Apple's doing with the Apple Watch. 
Curious what else the second generation of Apple's true wireless earbuds might have in store for us? Read on below. 
[Update: A recent report has suggested that the AirPods 2 could have 'deeper' bass and support AirPower wireless charging, whereas Twitter user OnLeaks's has suggested that  we won't see the AirPods 2 until the end of 2019.]
Apple AirPods 2 release date and price
When are they out? The latest predictions indicate an early 2019 release
How much will they cost? That's TBD, but if analysts are right, expect them to be similar to the existing AirPods at $159 / £159 / AU$229
We have every reason to believe that AirPods 2 are coming in 2019 but, without any official confirmation from the powers that be, that's just an educated guess. 
That said, there are analysts who have been overseas to Apple's fabrication facilities and have said that Apple is just about ready to produce units but couldn't provide an exact date for that to happen.
The best guess we have right now, based on a report from a Barclays analyst, is a late 2019 launch. Very likely that means we'll see them at Apple's 2019 WWDC event in June, Apple's September 2019 iPhone event or, at the very least, at the October 2019 iPad launch event that closes out Apple's events for the year.]
Twitter user OnLeaks's has suggested that  we won't see the AirPods 2 until the end of 2019, so it could coincide with the iPhone 11's predicted launch date in early September.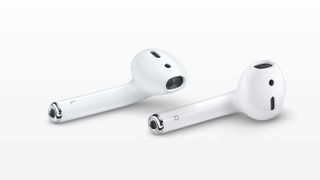 Apple AirPods 2: rumors, design and potential features
Despite their divisive design, the Apple AirPods sold very well – you just have to jump on public transport and see just how many of them are poking out of music fans' ears on the way to work to note they've overcome any early online ridicule. 
But improvements will need to be made in order to justify the release of a follow up. 
So far we've heard a number of crazy rumors (including the AirPods 2 being a pair of over-ear headphones akin to the Beats Studio line-up) so it's important to take all the rumors with a grain of salt and a pinch of anticipation.
That said, here's what we've heard so far.
Better wireless connectivity
The anonymous sources that spoke to Bloomberg claimed that both the 2018 and 2019 updates are going to have better Bluetooth 5.0 connectivity thanks to the inclusion of the W2 chip used in the Apple Watch 3. 
This is an upgrade on the W1 chip that currently handles the AirPod wireless connectivity. 
Siri
By the sounds of things, the Apple AirPods arriving in 2018 (AirPods 1.5?) are going to feature baked-in voice activation, meaning you'll be able to access Apple's voice assistant by just uttering "Hey Siri". We haven't caught wind of when, exactly, that feature will go live, but chances are good it will be available alongside the new wireless charging case in September or October of 2018.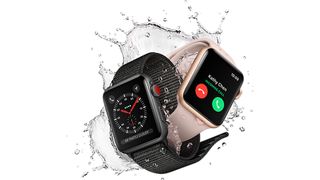 Waterproofing
Still working from the Bloomberg report, it looks like the 2019 update is going to have waterproofing, although it looks like it's going to be splash and rain resistant rather than true waterproofing like the Apple Watch, so no taking them in the pool with you. Still, that would make the second-gen AirPods a better workout-based headphone, and would mean that they'd be safe to wear around the pool without worrying about them getting splashed.
Fitness tracking
Back in July Apple filed a patent for biometric sensors which would allow the AirPods 2 to take on fitness tracking capabilities like those seen in the Jabra Elite Wireless. This followed another patent filed in March. 
Perhaps more interestingly than heart rate sensing, the sensors would also allow the AirPods 2 to measure stroke volume, which combined with heart rate would allow it to calculate your cardiac output. 
Essentially this means the AirPods 2 would theoretically be much better at establishing how fit you are overall rather than just measuring your heart rate.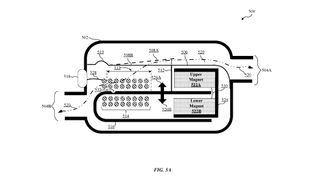 Better ambient sound handling
Another patent from July suggested that Apple is working on some pretty nifty tech for how the earbuds handle outside noise as well as dissipating pressure from inside the ear canal. 
The patent outlines a valve system that would allow sound to escape your ear canal to avoid that weird reverberating effect that occurs when you speak with earbuds in your ears. 
The patent then goes on to describe how the earbuds would handle ambient noise, using a microphone to filter in noise from the outside world so that you can remain aware of your surroundings while still hearing your music. 
Wireless charging
Apple now supports wireless charging in some of its devices. Called AirPower, the new standard will support the iPhone X, iPhone 8, iPhone 8 Plus, Apple Watch 3 and the existing AirPods (via a new charging case).
Given that the standard supports the existing AirPods, we'd be surprised if the technology wasn't included as standard with the AirPods 2, allowing you to easily charge all your Apple products from a single charging pad.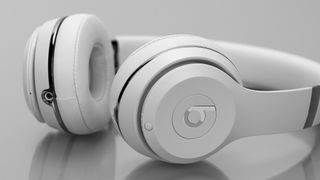 AirPods 2 as an over-ear pair of headphones?
This one's a long-shot, but there has been a number of rumors going around that the AirPods 2 might be a pair of over-ear, noise-cancelling headphones. It seems unlikely based off all the patents floating around out the integrated fitness tracker, but it's always possible that Apple will better leverage its Beats brand in 2019.