The EOS RP is Canon's second full-frame mirrorless camera, following on from the EOS R that launched last year. 
The EOS RP sits just below the EOS 6D Mark II DSLR in Canon's full-frame range, and as well as attracting new users to the brand, Canon hopes its new, entry-level full-frame camera will tempt users of its APS-C DSLRs to upgrade.
If you're wondering about the 'P' designation of the EOS RP, this harks back to the days of Canon's film cameras, when Canon produced the P rangefinder between 1958 and 61.
Canon EOS RP: features
Sensor very similar to that in the EOS 6D Mark II
Cropped 4K video recording
2.36 million-dot electronic viewfinder
The EOS RP sports a full-frame 26.2MP CMOS sensor – Canon says this is almost exactly the same as the sensor in the 6D Mark II, although the chip used in the EOS RP has had to be redesigned for the mirrorless format. 
The camera also gets the latest DIGIC 8 image processor, and has a native sensitivity range of ISO100-40,000, which can be expanded to an equivalent of ISO50-102,400; Canon reckons image quality from the EOS RP should be equal to that of the 6D Mark II. 
Canon EOS RP specs
Sensor: 26.2MP full-frame CMOS
Lens mount: Canon RF mount
Screen: 3.0-inch vari-angle touchscreen, 1,040,000 dots
Burst shooting: 5fps
Autofocus: 4779-point AF
Video: 4K
Connectivity: Wi-Fi, NFC and Bluetooth
Battery life: 250 shots
Weight: 485g
Like its full-frame mirrorless sibling, the EOS R, the EOS RP uses Canon's new(ish) RF lens mount. This mount shares the same throat diameter of 54mm as Canon's EF mount, but has a considerably shorter flange distance (the distance from the rear of the lens to the sensor) of 20mm.
There are currently four RF lenses available: the RF 24-105mm f/4L IS USM, RF 28-70mm f/2L USM, RF 50mm f/1.2L USM and RF 35mm f/1.8 IS STM Macro, although Canon recently announced five new optics in an updated roadmap. However, there aren't really any 'entry-level' optics here that compliment the EOS RP, with perhaps the exception of the RF 35mm f/1.8 IS STM Macro.
With that in mind, Canon will be bundling its EF-EOS R mount adapter with the EOS RP, and while there will be a couple of kits available with dedicated RF lenses, there will also be kits with EF lenses, including one with the reasonably affordable EF 24-105mm f/3.5-5.6 IS STM standard zoom lens. 
Image 1 of 5
Image 2 of 5
Image 3 of 5
Image 4 of 5
Image 5 of 5
Like the EOS R, the EOS RP doesn't feature built-in image stabilization, so you'll have to rely on lens-based IS – something most Canon lenses support, although there are some omissions, particularly when it comes to prime lenses.
The EOS RP features the same built-in 2.36 million-dot electronic viewfinder as the EOS M50 and M5, along with a 3.0-inch vari-angle touchscreen, offering what we think is still the best implementation of touchscreen control of any camera maker. 
There's 4K video support up to 25p, but this does come with a couple of caveats. Like the EOS R, the EOS RP has to use a cropped area of the sensor to capture 4K at 1.7x, meaning wide-angle framing will be difficult, while Canon's polished Dual Pixel AF focusing isn't available in this mode, although it is if you're shooting Full HD footage.
The EOS RP has both Wi-Fi and Bluetooth Low Energy connectivity, with the latter enabling a low-powered, constant connection to be maintained between the camera and a smart device for seamless transfer of images.
Canon EOS RP: build and handling
Lighter than a EOS Rebel T7i / 800D
Same level of weather sealing as EOS 80D
Balances nicely with RF 35mm f/1.8 IS STM Macro
The EOS RP sports a similar design to the EOS R, but is both squatter and thinner than its high-end sibling. The RP is also considerably more compact than an EOS 6D Mark II – as you can see from our photos below, it's actually quite a bit smaller than a EOS Rebel T7i / 800D. 
More impressive is the fact that the EOS weighs just 485g, which is some 45g lighter than the EOS Rebel T7i / 800D. This is despite the fact that Canon has managed to use a magnesium ally chassis here (though the exterior body parts are plastic) and equip the RP with the same level of weather sealing as the EOS 80D; as a result, while the EOS Rebel T7i / 800D can feel quite plasticky, the EOS RP has a much more satisfying feel. 
Much of the control layout of the EOS RP mirrors that of the EOS R, with some key exceptions. On the top plate, the LCD panel on the EOS R makes way for a mode dial, while – thankfully – the rear of the camera loses the cumbersome M-Fn control bar that plagues the EOS R.
Image 1 of 6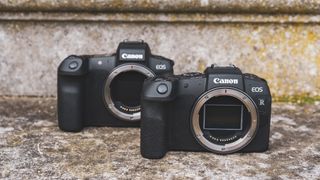 Image 2 of 6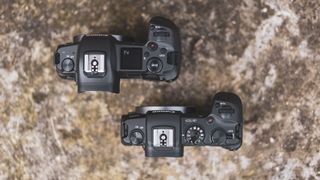 Image 3 of 6
Image 4 of 6
Image 5 of 6
Image 6 of 6
Canon EOS RP: autofocus
4,779 phase-detect AF points
-5EV working sensitivity
Dual Pixel CMOS AF
One of the EOS R's strengths is its advanced AF system, and while the 5,665-point Dual Pixel CMOS AF system hasn't been carried across to the EOS RP, it looks like the new camera has the potential to deliver impressive autofocus performance if the specs are anything go by (we'll have to reserve judgment until we can fully test the camera).
Canon has equipped the EOS RP with 4,779 selectable phase-detect AF points, with coverage matching the EOS R at 88% vertical and 100% horizontal, and a working range that goes as low as -5EV (with an f/1.2 lens). 
The EOS RP also gets Canon's Eye AF with continuous tracking, which is designed to focus on the subject's eye (when in Face Detect mode) – we're looking forward to testing this feature, and comparing it with Sony's EyeAF tech, which has impressed in the likes of the Alpha A6400. 
Canon EOS RP: performance
5fps burst shooting
Unlimited buffer for both raw and JPEGs
250-shot battery life
While we've got used to mirrorless cameras offering some fast burst shooting speeds, the EOS RP is a little more sedentary at 5fps, while if you want to use Servo AF (continuous focusing), this drops further to 4fps – this isn't a camera for those looking to shoot a lot of action. 
The slow burst shooting speeds are likely a contributing factor to the EOS RP's unlimited buffer capacity, though, so provided you have a UHS-II SD card you'll be able to shoot as many continuous raw or JPEG files as you like. 
The EOS RP uses the same battery as the EOS Rebel T7i / 800D and EOS M50, which is good news if you have one of those cameras and are looking to acquire the EOS RP as a second body, although it does mean that according to official CIPA testing figures you can only expect 250 shots from a full charge. However, as we've seen with other mirrorless cameras, including the recent Nikon Z6 and Nikon Z7, real-world tests deliver better results, so we'll have to see how the EOS RP performs once we get a final sample.
Canon EOS RP: early verdict
Canon hopes the EOS RP will sway existing users of its APS-C lineup to make the jump up to full-frame, and in many ways we think the new camera will make that a tempting proposition. 
The familiarity of the control layout should make it an easy transition for many, while the excellent touchscreen interface is another tick next to the EOS RP. 
If image quality from the EOS 6D Mark II, which uses a virtually identical sensor, is anything to go by, results from the RP should satisfy most users too, while the 4,779-point Dual Pixel CMOS AF shows a lot of promise. 
On the debit side, and as we've seen with a few recent Canon launches, 4K video is compromised, while the modest burst shooting speeds and battery life also go against the EOS RP.
However, you may well be able to overlook those issues when you consider the EOS RP's price. While it's a shame there's no RF lens that really complements the EOS RP at the moment, at just $1299/£1,399/AU$2,149 body only (with a bundled EF-EOS R mount adapter), this is certainly one of the most affordable full-frame cameras going.